Sunday School
Here at Glen Burnie Baptist Church, we place a great priority on Bible Study. Studying the Bible  is not an activity just for children and students, we believe that adults need to continue to study God's Word to grow and mature in their personal relationship with Jesus Christ as well. 
Our Sunday morning Bible Study is at 9:30 am every Sunday. The classes for children and students are grouped primarily by age and school grade.  Meanwhile, our adult classes are divided primarily into two different departments:
Adult 2: Co-ed, men's and ladies classes for adults in their 20's through their 60's
Adult 3: Co-ed, men's and ladies' classes for adults in their 50's and beyond
You can find a complete list of classes and locations below.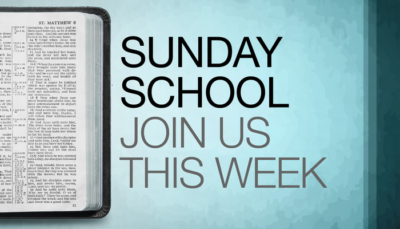 Sunday School Class Locations
Children Classes 

Class
Room
Babies – 2 Year Olds
Room 301
2 & 3 Year Olds
Room 304
4 & 5 Year Olds
Room 303
1st – 3rd Grades
Room 306
4th – 5th Grades
Room 310

Student Classes

Class
Room
6th – 8th Grades
Green Room
9th – 12th Grades
Green Room

Adult Classes

Class
Room
Adult 2: Men – 30-45 years
Room 314
Adult 2: Co-ed – 20-45 years
Room 309
Adult 3: Co-ed 45-65 years
Prayer Chapel
Adult 3: Ladies 1 – 45-65 years
Confer. Room
Adult 3: Ladies 2 – 45-65 years
Room 202